COS x YEBOAH 'Metamorphosis'
Reece Yeboah discusses newest COS collaboration, overcoming adversity & moving forward.
"I just want to give people hope."
"A change of the form or nature of a thing or person into a completely different one." The very definition of metamorphosis leaves several avenues open for interpretation and questioning. What prompts change? What is the end result? What does it look like? Well, enter Reece Yeboah. The London-born creative has had his fair share of change throughout recent years, starting from scratch after the unfortunate closing down of his previous streetwear brand. Capturing each and every stage of this considerable process of change, luxe London-based apparel outfit COS have joined forces with Reece Yeboah to launch the latter's new brand, debuting the new COS x YEBOAH 'Metamorphosis' collection.
Channeling this feeling of evolution and change, the collection merges each brand's distinctive creative language to form a range that creatively documents the formative experiences in founder Reece Yeboah's life, putting forward a fresh take on street-luxe and contemporary tailoring that incorporates function, style and sustainability. Having taken an array of setbacks in his stride, Reece's journey with adversity is a prominent creative driving force behind the range, projecting a sense of hope to those facing similar difficulties and hardships. The garments themselves encapsulate this sense of discovery and newfound light, with this collection boasting over forty menswear-inspired pieces, including a reversible body warmer, cushioned puffer jackets, unisex accessories, knitted jumpers and hoodies, tailored trousers and more. Utilising a 'butterfly effect', the collection places emphasis on the fine details and experiments with subtle features, which ultimately make a significant impact on the final design, whilst simultaneously steering away from repetitive seasonal trends.
Giving PAUSE a feel for the collection, Reece Yeboah let us in on what we can expect from the COS x YEBOAH 'Metamorphosis' collection, his journey as a creative so far, as well as providing some advice for those that find themselves facing adversity.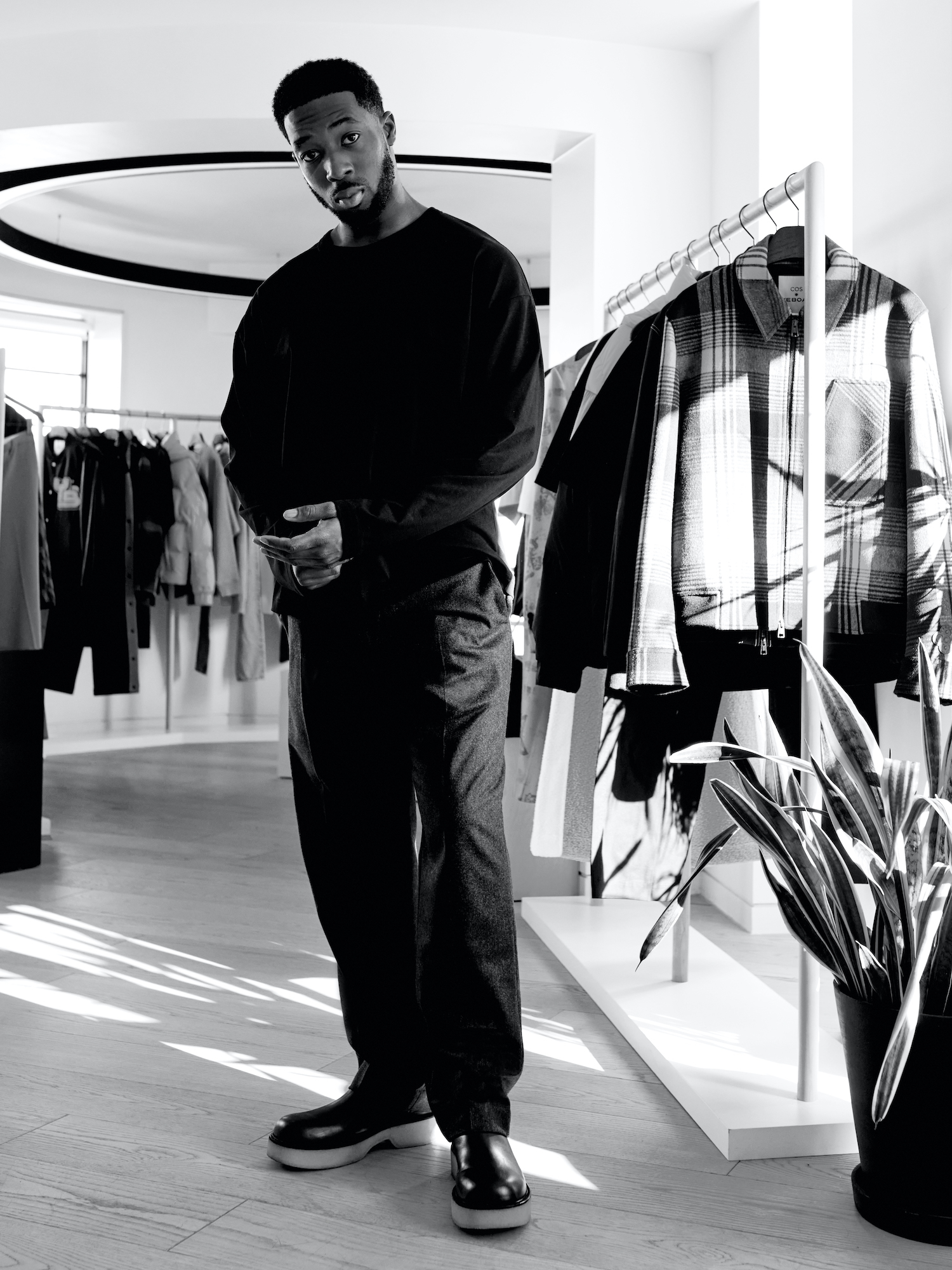 So, how are you feeling about this collaboration with COS? Where does this rank in your career so far?
To be honest, it's an amazing feeling. For me, it's like my prayers are being answered. I was in such a low place after closing down Saint London and starting a new brand. Going about that was a bit difficult because obviously you're starting from scratch, but this is an amazing opportunity for me and I feel like COS are helping me showcase my talent and my skills, so me getting my craft out there, it sits top tier and I feel like it's going to be a shockwave collaboration for others. I can't wait to get into it!
It looks great! Just talking briefly about your background with Saint London, what's the one thing that you've taken from your time with the brand that's helped contribute to where you're at now in your creative process? Obviously, it was a tough time for you.
It's taught me a lot to be honest, especially in terms of understanding the responsibilities of being a team leader and needing a team. I had the brand for just under seven years, I ran it by myself, it was all self-funded so yeah, the difficulties that I went through with that and just learning how to play chess more rather than checkers, making sure I cross my T's and dot my I's and making sure things are trademarked and my legals and my taxes are all sorted out and well regimented. I've got people on my team who are very supportive, such as the team I have now, which is a team of four. I've got an accountant now as well. I had one before but I wasn't seeing them as regularly, I see my team regularly now, I speak to them every day and it just helps, it uplifts me and keeps me going, so that's something that I've taken from Saint London. I know that a team is very essential and very vital moving forward if you want to be successful.
Yeah, definitely, it's all about building blocks. So, for our readers who might not be too familiar with you, tell us about your journey in fashion so far and what your mission status for your new brand is.
So, the mission status for the brand and ethos for the brand is helping others, and that is the 'Yeboah' name translated from the Akan and Ashanti tribes' native language in Ghana into English.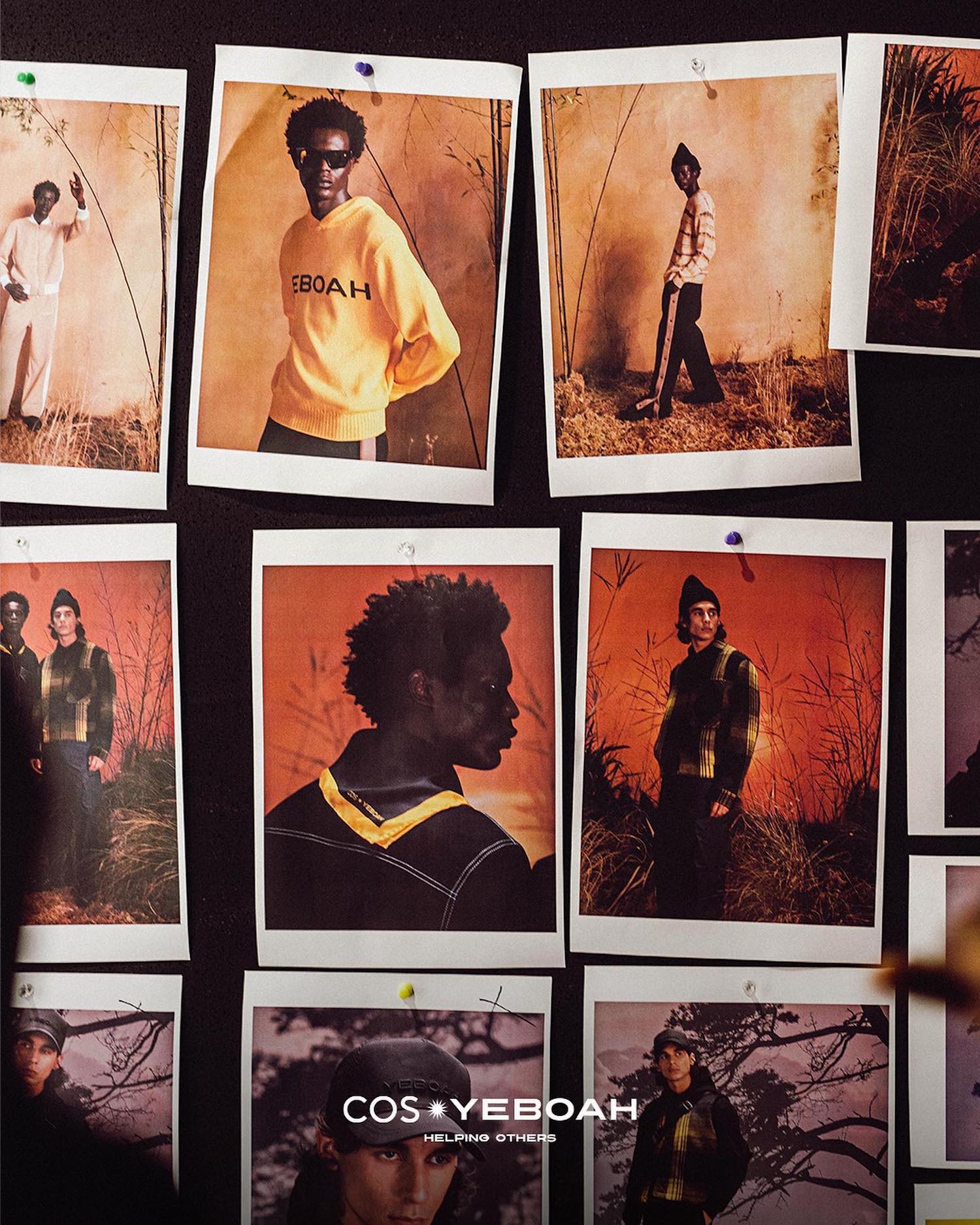 That's amazing!
Thank you! On top of that, I did streetwear for so long but I didn't want to continue just sitting in the same box that I had, so I wanted to take a streetwear luxe approach and go into luxury and draw from the roots and the heritage of both countries, Ghana and England. Then being very strict and heavy on story-telling, things that have obstructed me in my life, how I can turn negative situations into positive situations and communicate that with my existing and new followers and the next generation. I definitely want to help them, so helping others is definitely something that I'll keep pushing the message into.
Getting into your earlier life I read that you spent some time in Ghana when you were eleven. Give us an insight into how that has shaped your journey, especially given the current crop of creative talent in Ghana.
So, I went to a place called Nkawkaw, which is in the Eastern region, that's where my mother was born and that's where her family is from. I stayed in her great grandfather's house and my mum did that in order to break generational curses and it kind of gave me a spiritual awakening, by unplugging me from the systems that I had back here, because she felt like it wasn't helping me move forward here. I wasn't really listening and I didn't really have an understanding of my purpose or an attachment to something that I really wanted to do and pursue. Over there (in Ghana) involved learning about real toughness, real life struggle, friendship, family, and togetherness. School goes on for longer than here as well so you learn more, you start school at 7:45am and you finish at 17:45pm, so it's really intense and it's a really long day. By the time you get home you're instantly in sleep mode, you're ready to go to sleep. As well as going to a Christian school, you've got to do singing and choir and all of that stuff every morning, reciting the national anthem, you've got to do that in English and the native language. It's just about discipline and those sort of things, I learnt so many things. I haven't been back in so long, but I felt like naming the brand that helped me give back… that helped with the decision making with what I was going to name my next brand after Saint London. That is a give back to Ghana from just me being sent there.
How long were you there for?
Maybe three and a half years, from year eight to year thirteen, just before I started college. So, it was quite lengthy.
That's a poignant time in someone's life. I can imagine going from London to Ghana would be a heavy contrast, I think you can see that, especially when you talk about your mission status and having that clear vision of what you want. In terms of growing up, what/who were some of your inspirations?
From the UK, I would say it was Dizzee Rascal.
Yeah, I've heard that a lot!
In school we used to do an IT session when you had to research somebody, find out about their background and what they do and why they do what they do. I never changed what I did, it was always Dizzee Rascal, always. The reason why I chose him was because at that age, seeing somebody that looked just like me on the TV and has gone against all odds, done something different, and got himself out of the box of being trapped in the hood and complaining about what's going on in the hood; he's used his voice to get out of the hood. A lot of people didn't like that, and that was reflected in his music. I just liked him for it. The second person was 50 Cent, because obviously in Ghana I was out there and that was the pinnacle in 2005, 2006. For me, Get Rich or Die Tryin' (2002) is one of the best albums ever and it was an album that my brothers sent me. When I was in Ghana, I would listen to it on my Walkman on the way to school. So, those two people really influenced me as well as like late nostalgic 90s dress sense, like how everyone was dressing in Moschino, the garage scene and all of that stuff. The early 2000s, Y2K street culture, the grime era, how the scene was growing stronger with 'Pow' going mainstream and those sort of things really inspired me to know that I could get out of my situation if I use something positive to steer myself out.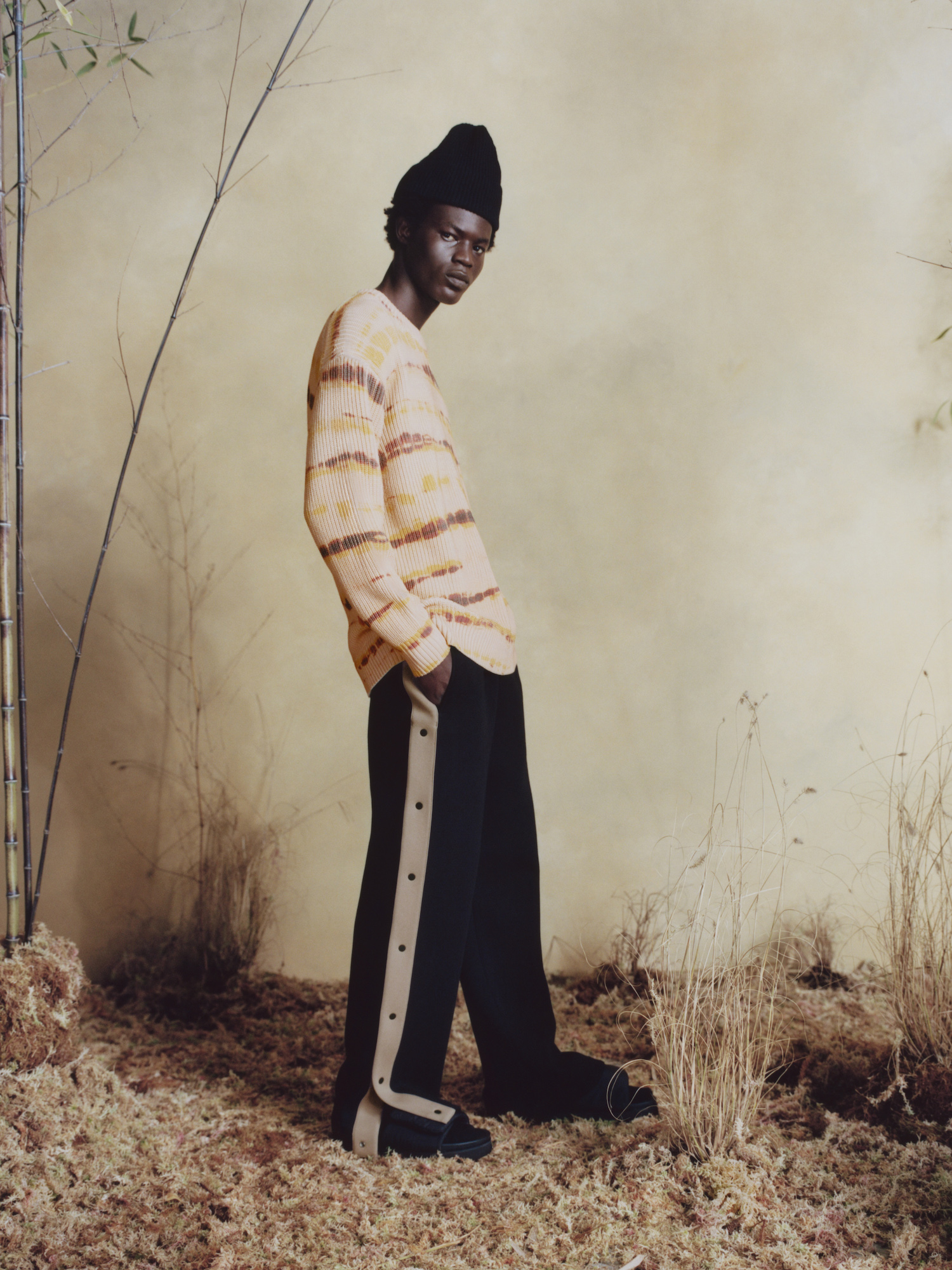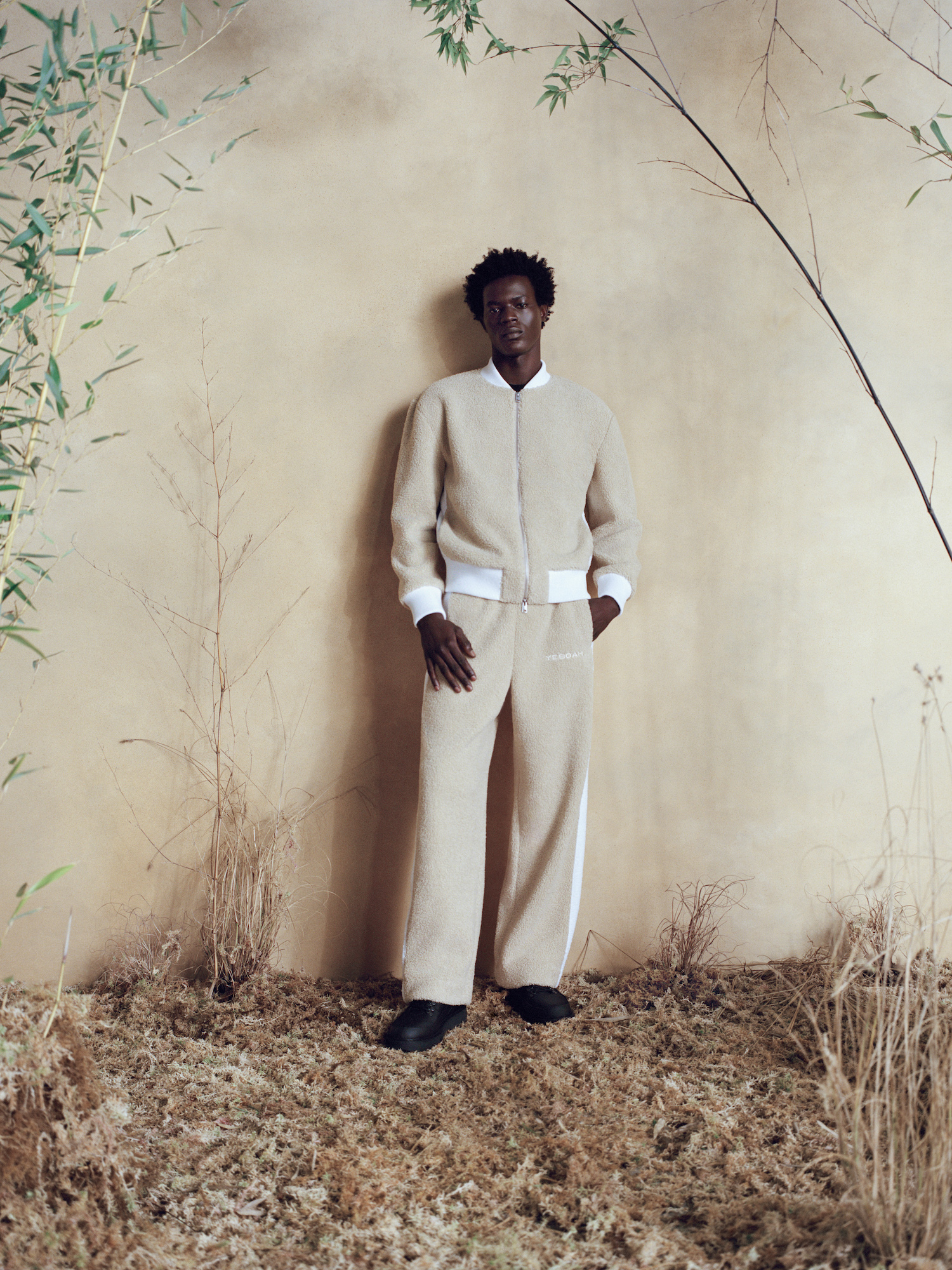 Definitely yeah, I feel like Dizzee Rascal sometimes doesn't get the respect that he deserves, especially in the UK. Touching on your creative side, first of all congratulations on your "Metamorphosis" collection with COS. Going into more detail, it's a bold title for a collection, an air of transformation, development and maturity that comes along with that. What did you want this collection to immediately say to people?
I wanted it to say that time is a healer and sometimes you're put in certain situations and your willingness will determine whether you succeed getting out of that situation or not, and all of those things will help the sake of your growth, it's going to really help you understand why you had to go through something like that. Metamorphosis is something that an animal has to go through and it will essentially change into another animal, like the movement of a caterpillar is restricted and after it comes out of the cocoon and transforms into the form of a butterfly, the moves that it can do are so effortless, there are no boundaries to that. That is what I wanted the collection to be like because there is fortune after difficulty. No matter how difficult of a situation you may be in, your success is going to hatch and it's going to be something that nobody can take from you because you've worked at it, you've stuck to what you needed to stick to, and you've followed every protocol you needed to and you've got to where you needed to reach, if that makes sense.
Yeah, that's exactly what I thought straight off the bat, you've definitely put that across perfectly, especially talking about silver linings from past experiences. What do you think this collaboration brings to the luxury streetwear scene?
I feel like it ticks multiple boxes to be honest! When it comes to the tailoring, the sustainability aspect, and the affordability for people, you're getting your money's worth. You're also getting two amazing brands, a designer and a brand, that is known for the quality and the sense of how they really take the process of refining your wardrobe seriously. To have those two elements connect, I feel like it's a jaw-dropping collaboration, I feel like so many people are going to be shocked that this is a first time for COS and a first time for me, for us to meet and join forces together is just something that is going to wow people. Again, I want to really emphasise the tailoring aspect of things, that's really something that has blown me away and I know that the quality is something that will have people really interested and it will win a lot of people over.
The tailoring aspect I was surprised by considering people are still being priced out of collaborations, so to bring that back down and give people quality is great.
I know the collection is designed to reflect the complexities of life and incorporate a sense of discovery, like with the metamorphosis aspect. In what ways were you looking to inspire people with this range? Were you looking to speak to anyone in particular? Maybe people struggling like you said before?
Yeah, definitely. I get so many DMs from young creatives asking how I do what I do and just thanking me for keeping the flame going after the Saint London issue, so it's helping them and those are the sort of people that I want to speak to. The young creatives that seek motivation from designers in the UK, as well as a new audience that is going to come from this because there are people that don't know about me who are going to know about me and they're going to take a liking to the way how I story tell and how seriously I take working with high-quality fabrics. I hope it really resonates with them, I aim for it to resonate with them. I just want to give people hope, I want to help others.
With what you went through with Saint London and navigating the complexities of starting your own brand it couldn't have gone better, and even for me who isn't looking to start my own brand it's really inspirational, so I can imagine for a young creative it really is a genuine pinpoint moment that they can put in their mood board for 2023.
In terms of the range itself, do you have any personal favourite pieces?
It changes man! I think it would be either the contrast-stitch cargos, it comes as a set, it's got a jacket as well and a badge attached to it. It's either that or the checkered reversible gilet, which is one of my favourite pieces. I was so happy with how that came out. Also, probably the flower star t-shirt because I love how it drops on the shoulders, it's an oversized fit but it makes me look broader than I am so if I was going out, I could just wear a t-shirt. I haven't really been going to the gym like that so I can just put it on and I kind of look like Johnny Bravo! It's a really nice t-shirt, it's clean.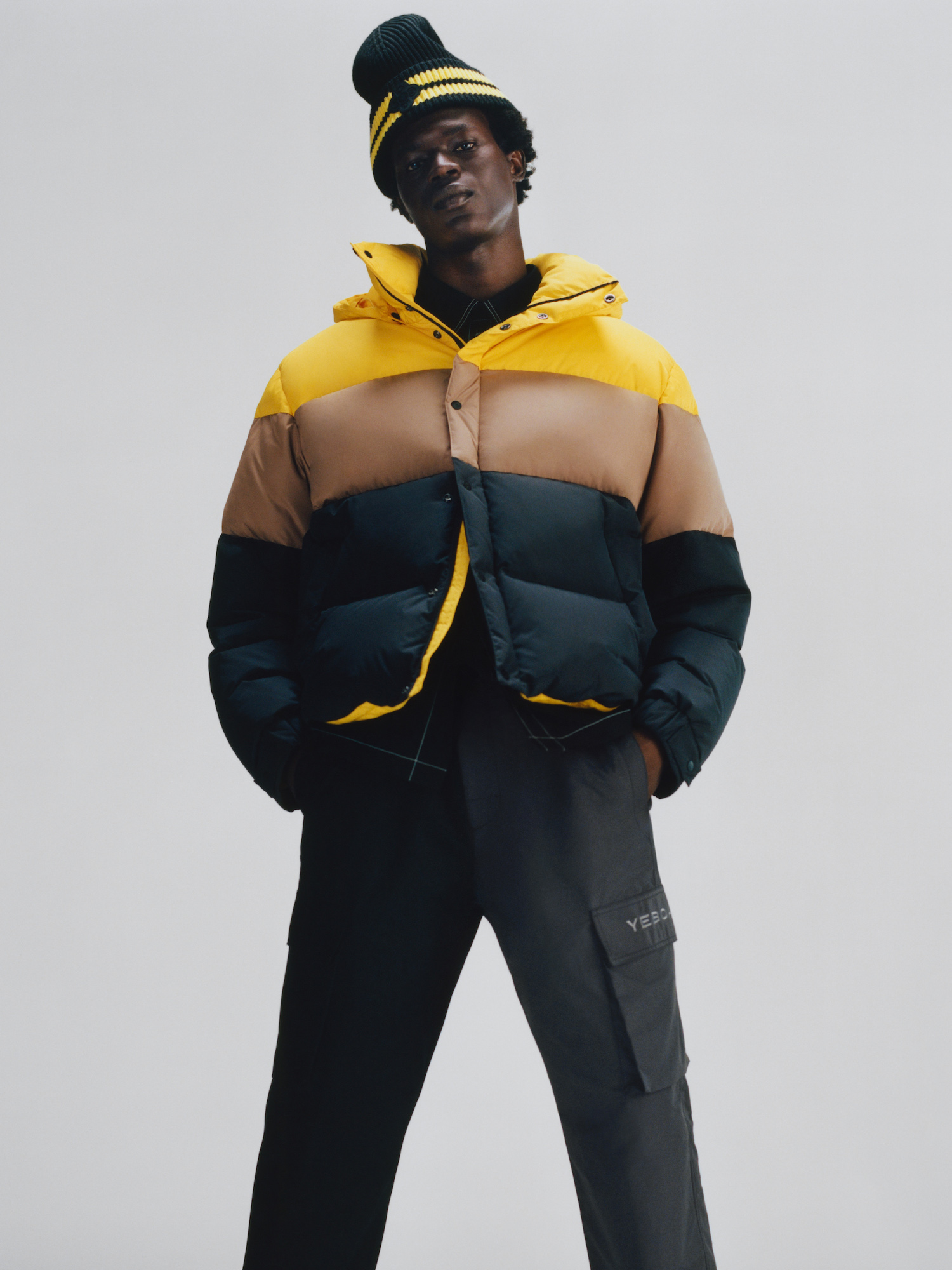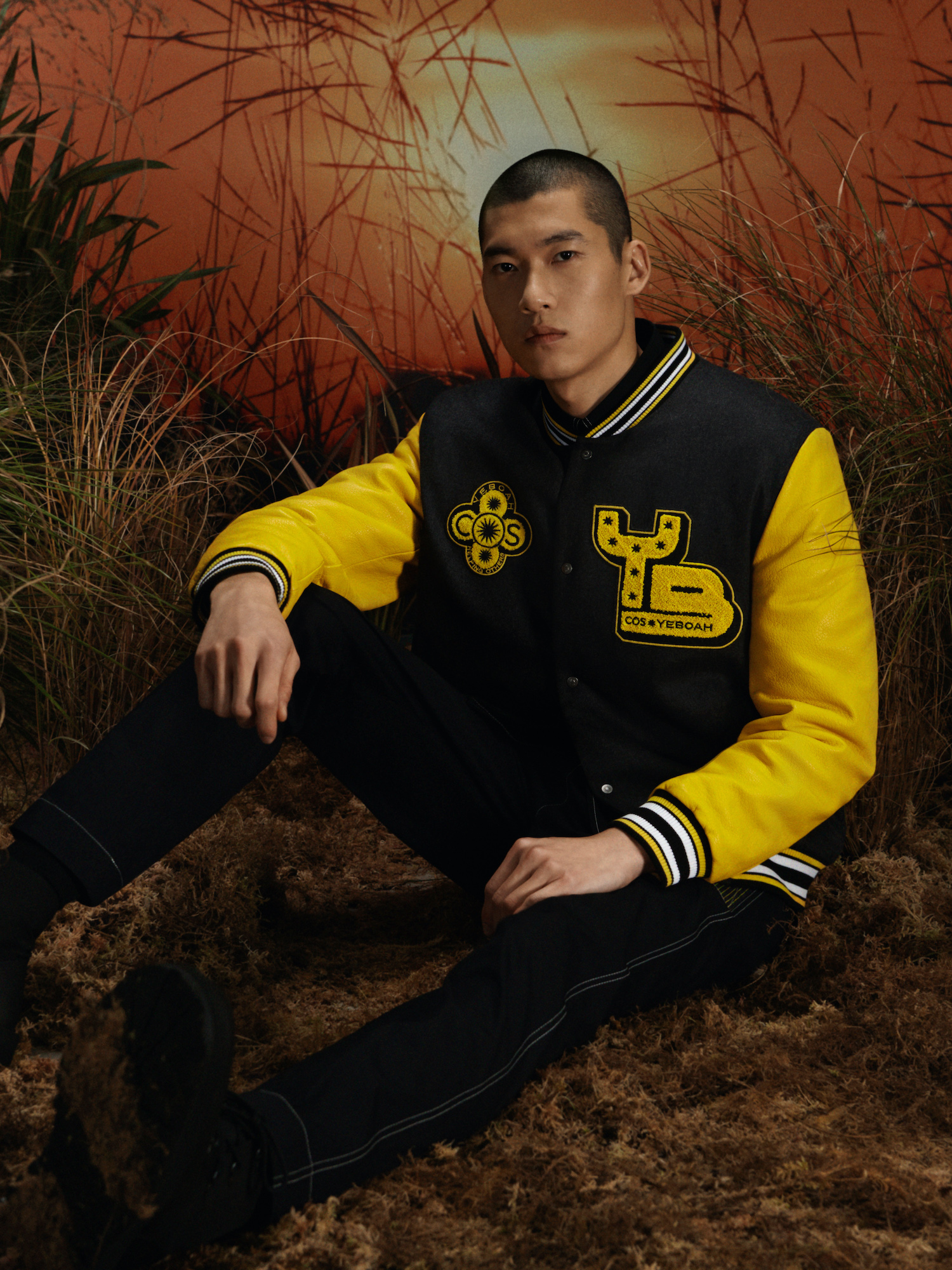 If you were going to reflect on yourself as a designer, what do you think your personal strong suit is? Do you lean into other parts of the process more than others? And what part of creating do you love just as much now as you did at the beginning?
I would say that my strong suit is problem solving and what I mean by that is when I design, I have to dig deep into my life because most of my collections that I've drawn and sketched out are based on a story or issue that I've been through. I almost want to turn these from a negative into a positive, and then I have to create a mood board in my mind of what that situation taught me and how I can expose that and extract from it to then paste that onto a garment or turn it into a mood or a colour palette. So, that's something that I really enjoy because it's something that I do really fast, but someone wouldn't really understand, they'd just think that I'm designing really randomly! But, when you give me two weeks to put everything laid out it's like "Wow! You did all of that in two weeks and you thought of everything, that is amazing." That is one of the main things that keeps me on my toes, because even if it's something that will put me in a bad mood temporarily, I know that at the end of it I'm going to have a good outcome and that I will learn from that situation also by teaching someone, and then they also get to learn. Yeah, concept creating is one of my key strengths, as well as networking, but I really like the process of doing that; it's a learning curve for me.
Creating in general is kind of transitioning what you think in your head and the ideas you have and how it's intertwined with you as a person and actually getting it onto paper and into a product, and to do that process so quickly is definitely a feat.
In terms of collaboration, it can sometimes be hard to bridge the gap between two entities, sometimes it doesn't work and look as good as the collaborators want it to. How do you think this collection has done that in terms of bridging the gap? I know you steered away from seasonal trends with this collaboration. 
Yeah, I don't really like trends to be honest! I feel like what me as a designer, what I want to do and the message I want to put across is making sure that I give you enough items for you to take care of your wardrobe, refine it, not clear it out, but adding to it slightly. I feel like both brands have worked really efficiently because the deadlines and the timelines that we've had to create this collaboration on and do other things, such as put on shows and have marketing meetings, we've done it in such a short space of time and come up with such an amazing collaboration and collection, so I feel like it's worked really well. This street-luxe, like I said to you before when I was emphasising the tailoring aspect, that's more of what COS takes seriously, that and working together with the sustainability aspect. 92% of COS materials are more sustainably sourced, that's mind-blowing to me, that's crazy!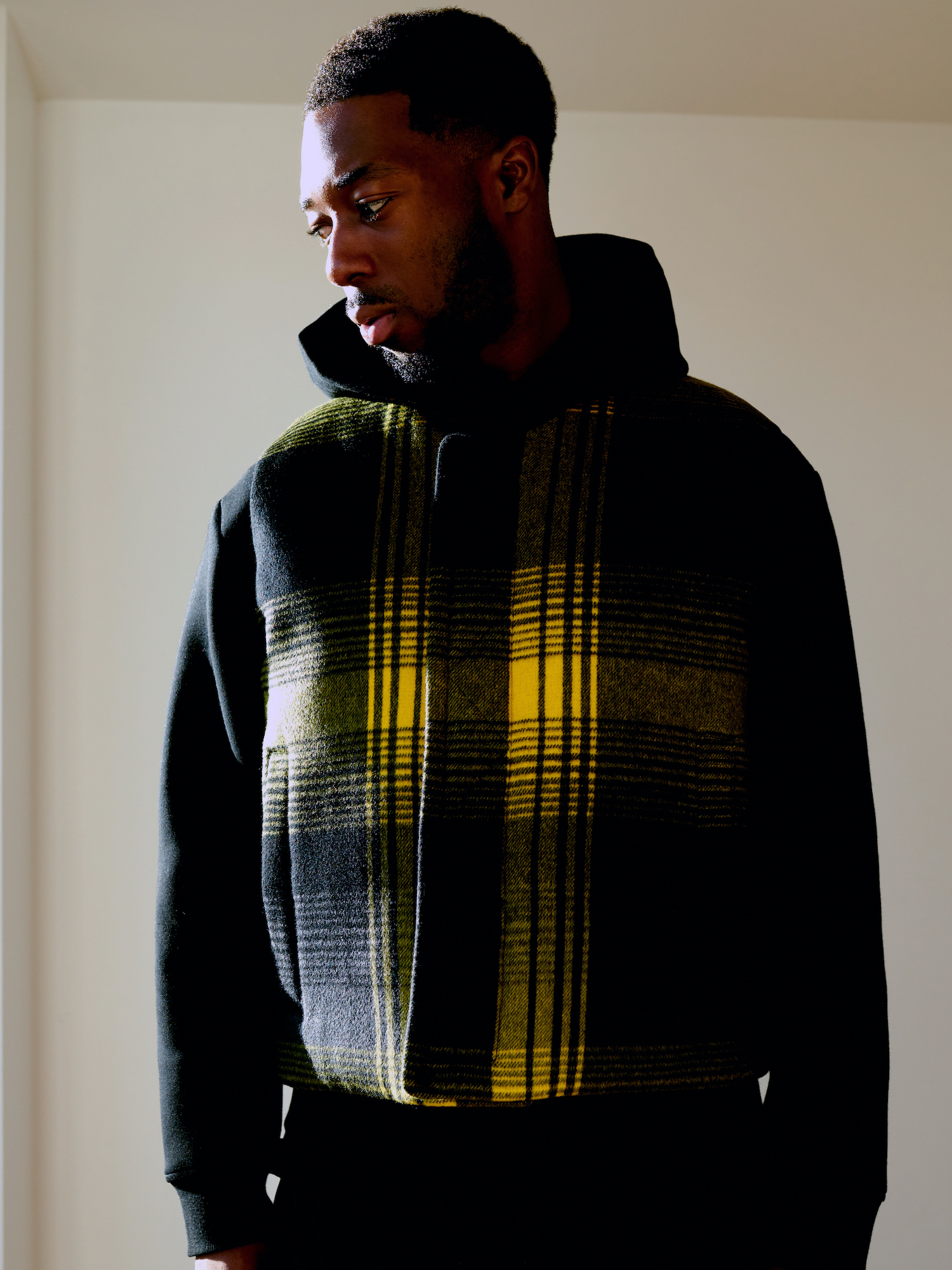 To have that majority is impressive, especially after creating so many garments…
Yeah! To go through all of those fabrics and to have so different styles and feels, that is amazing to me. I wouldn't have been able to achieve that without COS taking their sustainability aspect so seriously and schooling me about things like fabrics and how certain things are created and recycled, especially with the RWS wool. It's been like I'm the student and they're the masters. We've worked together, they're teaching me, and I'm teaching them a few things too, but they're mainly schooling me on things that are going to help me progress in my career and I feel like that's what collaborations are all about, working with someone closely and learning from them, shadowing them so that it will champion you in the future.
If life isn't about learning at every age, then what is it about? To meet someone in the middle is definitely a sign of a good collaboration!
You touched upon the sustainability aspect and the use of RWS wool, do you think there's a responsibility for brands – and particularly collaborators – to be better at acknowledging environmental impact?
100%! I think they should take note from COS, because many of the pieces that they make are recycled and sustainable and that's amazing. I didn't know that until I started working with them, I've always loved the brand and I've been shopping in COS and I didn't know that, so for me to be working with them and get schooled on that is great. I feel like most collaborations that come out now need to have some form of sustainability aspect to it, designs and prints are cool, but when certain things are happening in the world, I feel like we have to take responsibility and put that into our work as well.
It's kind of becoming unignorable…
It's also good for the next generation to be schooled up on that because they're coming up, they're going to be designing, and I feel like they need that understanding of having certain pieces within their collection or within their wardrobe that help the environment.
Definitely, I feel like it's just having that awareness and showing people that recycled pieces can be just as good as fast-fashion.
One last question, if you could describe the COS x YEBOAH 'Metamorphosis' collection in three words, what would they be?
Um…
Putting you on the spot a little bit…
I would say street-luxe, iconic and inspiring.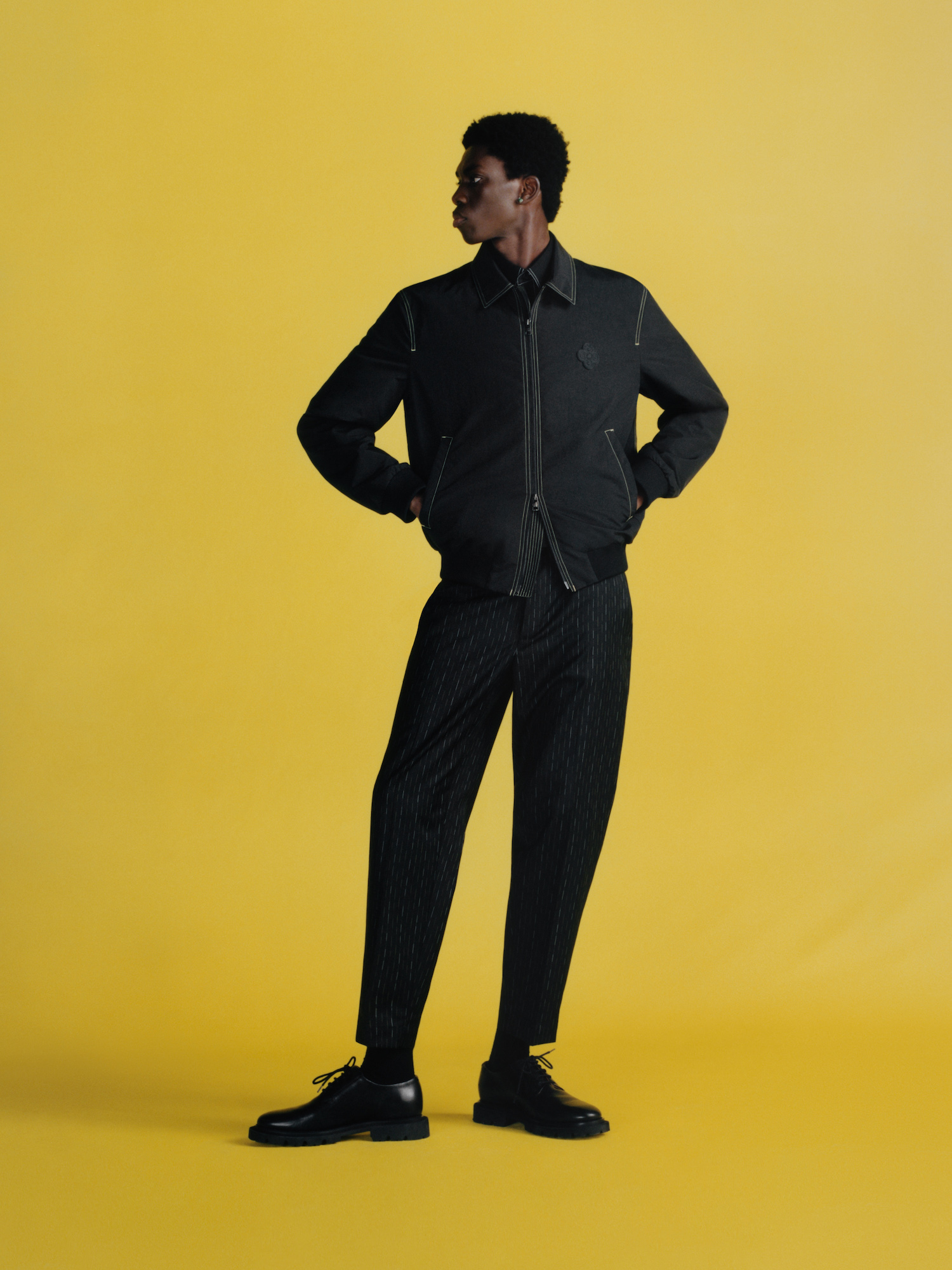 The COS x YEBOAH 'Metamorphosis' collection will be available to purchase from the COS website on February 1st, 2023.
In celebration of the joint collection, COS and YEBOAH displayed their collaborative pieces at a runway show in London's Tate Modern art gallery on January 26th. Take a look at some backstage imagery from the event below.
PHOTO CREDIT: Daniel Sims (@simsnotebook)
PHOTO CREDIT: Nick Andrews (@nickandrewsphoto)